A connection formed with only a glance.
When Mad Dog Jones first met Fvckrender, he had no idea the ride that was in store for him. Initially, they bonded over a mutual appreciation of each other's work on social media. Both artists were pushing the medium of digital art to new heights, fueled by an endless supply of ambition. Upon learning that they lived in similar parts of Canada, they were able to connect in-person and forge a lasting bond. Now, years later, Mad Dog Jones is the first artist releasing on the LVCIDIA platform. Leading the path for generations of artists to come, he selected his work carefully: "I wanted to give a piece that really represented me… a bond of friendship with Fred (Fvckrender) and the community."

"I'm so proud of what LVCIDIA has done that I just wanted to give them a token of my appreciation and excitement to be part of that universe." 
The work of Mad Dog Jones is rooted in the idea of connection: it explores our complex relationships with nature and humanity, in an increasingly digital world. Despite technology bringing us closer together than ever before—reflected in the often claustrophobic nature of MDJ's densely layered cityscapes—it can be challenging to find real companions who share your passions.
Beneath the awe-inspiring color palettes, much of his work emanates a unique sort of loneliness. The viewer is left to fend for themselves in the forgotten corners of the world of tomorrow. In their search for genuine human connection, they must find a new path forward.
For many, racing helmets are nothing more than a tool for protecting yourself. But for Mad Dog Jones, they are a means of self-expression. "I was kind of like a sticker kid. You're growing up, and you get a pack of stickers. And you're putting them on your laptop or on your binder. The motorcycle helmet is the most sticker kid I could possibly be, where you just get this thing, and you get to put stuff on it and make it your own.That, to me, is just a really fun palette and medium to work with", the artist explains.
Helmets illustrated by Mad Dog Jones are always overflowing with personality. They reflect the rider's inner self outwards, introducing them to the world without a single word spoken.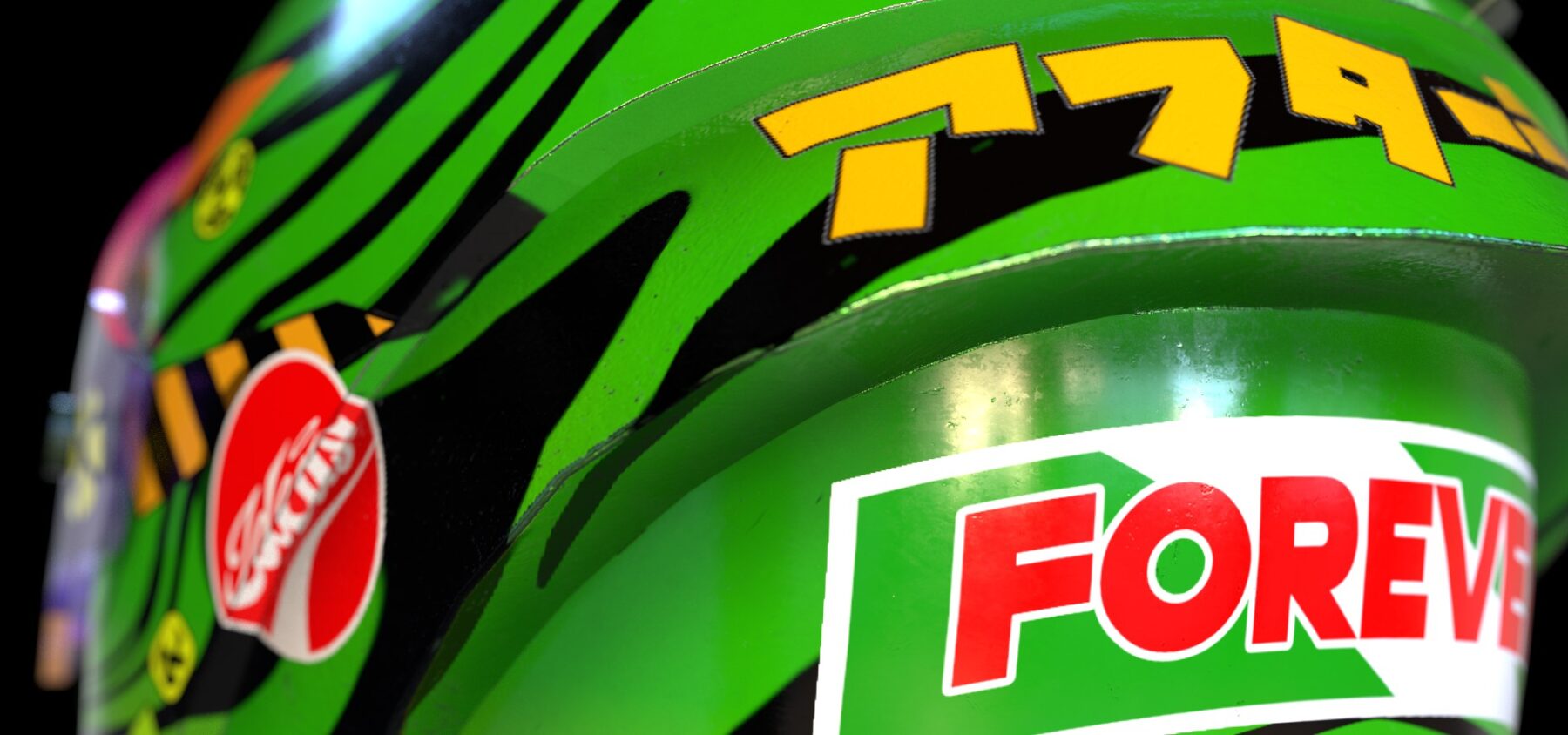 Release Details:
The Experience will be for sale starting on June 30th, 2023, for select holders of Fvck_Crystal, Artifex, and Mad Dog Jones collections. These collectors will have the opportunity to purchase a limited edition NFT showcasing the first-ever 3D model of Mad Dog Jones' artwork: a racing helmet designed in his signature style. The NFT will exist in 3 separate colorways, with each color belonging to a certain tier of rarity. Collectors will purchase an unrevealed NFT, discovering their rarity level with the reveal on July 3rd. There will be 135 total 3D helmets:
100 Smoke Helmets

25 Petrol Helmets

10 Ignition Helmets 
Collect 3D helmets to earn 2D 'grail' helmets
In addition to the 3D artwork, there will also be 2D helmet NFTs of a much more limited edition. These Grail helmets cannot be purchased, only earned. The first 10 collectors to put together a full set of the 3D helmet NFTs will receive a Grail Smoke Helmet NFT for no added cost. Among those 10 holders of the Grail Smoke Helmet, one individual will receive a 1/1 Grail Ignition Helmet NFT. The collectors who are unable to complete a full set still have an opportunity to receive a Grail artwork. A 1/1 Grail Petrol Helmet will be raffled and airdropped to a collector of any 3D helmet. 
One purchase per wallet only. First come, first served. See below for timeline and pricing.
3D Helmets reveal as either Petrol, Smoke, or Ignition
Snapshot of the collectors who have completed a full set of 3D helmets
Grail helmet NFTs are airdropped to eligible collectors
Petrol / Smoke / Ignition
Why we like it:
"The art of Mad Dog Jones juxtaposes cyberpunk dystopia and natural beauty with a distinctly MDJ palette. The helmet has been a recurring symbol in his work. An element of mystery and canvas for ideas, his physical helmets have been released at Christie's Trespassing (THERE IS NO EXIT) and via high profile collaborations with Lewis Hamilton and Valentino Rossi. A newly designed Mad Dog Jones helmet now comes to life in digital 3D for the first time. Seeing LVCIDIA on its canvas is a centerpiece of the most impactful first Experience we can imagine."
By Roger Dickerman, Artifex
Artist behind the experience
Mad Dog Jones
Mad Dog Jones—AKA Michah Dowbak—is one of the most widely recognized contemporary digital artists. Originally from a small town in Ontario, his entrancing sci-fi illustrations have connected him with a global community of collectors. He has created work for high-profile clients such as Maroon 5, Run the Jewels, and Deadmau5, all while continuing to push the boundaries of his style. Always innovating, his NFTs have been sold at Sotheby's, Christie's, and Phillips.