Incoming_Transmission: Hello explorers. With the release of our whitepaper, you are now able to see our vision for Lvcidia with new clarity. And with our new finery collection, you can represent Lvcidia in your travels across the galaxy. We cannot thank you all enough for supporting our collective dream. Our passionate, dedicated team will continue to work to deliver an unforgettable experience for you all.
When reality loses its glimmer, come and escape the waking world…
WHITEPAPER — LIVE
On Friday September 2nd, our Whitepaper was finally released online for the world to see. The 38 page document covers the past, present, and future goals for Lvcidia — as a brand, as a platform for artists, as an explorable universe, and much more. We aimed to craft a document that encapsulated our ethos while still being accessible to a wider community. It underwent many, many revisions, and will continue being improved as technology develops over time. The team is overjoyed to see the positive reception to the Whitepaper on Twitter and Discord, with many great conversations happening around its contents. There are still many mysteries to unfold at the core of Lvcidia, and we hope to have you all along for the ride.
Our first Lvcidia Finery collection — "N1" — was made available on August 26th. The launch was a huge success, with plenty of collectors and community members making purchases. We were able to meet our aim to produce high-end clothing that will last you for years to come, and provide worldwide shipping with reasonable prices. However, we do understand that not everyone can afford the prices and are looking into releasing more accessible options in the future. If you do choose to support the N1 collection, be sure to use your holder discounts before checkout (15% OFF for crystal holders, and 10% for avatar holders). These discounts will continue for future releases and apply on a per-item basis. We're so thankful for the support and are tremendously excited to see this finery out in the wild.
As a reminder: ALL ITEMS ARE FIRST COME, FIRST SERVED. NO RESTOCKS.
STAKING — TESTING
With the finery release, and now the whitepaper out, the next thing on everyone's mind is staking. Trust us that it has our full priority. We've released details on our approach to staking in past newsletters, as well as in the new Whitepaper, but some of the mechanics will remain a secret for the community to uncover together. For now, what we can say is that Manifold will be working on tests this month to ensure everything is working properly before staking goes live on the network. The complexity of resources, traits, and star crafting leaves room for quite a bit to go wrong, so in order to ensure a smooth launch we are taking the needed time for final checks.
THE WEEKND — CONT.
During the last Fvck_Monday, Fvckrender spoke a little more about his interaction with the Weeknd, following the acclaimed artist's 70 thousand dollar spending spree on Fvckrender and Lvcidia NFTs. The two became connected through the Weeknd's creative director, with Fvckrender having previously created tour visuals for other worldwide artists.Their mutual love of art sparked the Weeknd's interest in entering the NFT space as a collector, and he knew just who he wanted to support for his first major purchases. Whether or not their friendship will spark any future collaboration is uncertain for now, but regardless — we are overjoyed to have an artist of the Weeknd's skill recognize and support our vision for Lvcidia.
Fvckrender (left) with The Weeknd (right)
AVATARS OF THE WEEK
ESSENCE. The core of all things. What mysteries does it hold? What secrets are there to uncover? While we've been teasing it for the past few weeks, we're excited to officially announce that new handmade avatars are being worked on for the collection by a variety of talented artists. They will be added to the minting pool for Essence at a date forthcoming. As the long-term vision for Lvcidia is to be a hub for artists of all sorts to showcase their work, adding new handmade avatars allows us to take steps in that direction. We'll be showcasing more on this front soon, but for now: here are my favorite new avatar reveals of the week!
3D CRYSTAL ASSETS
Many of our crystal holders have requested the 3D files for their crystals, in order to make derivatives or play with as they wish. While we're still developing a system to streamline the distribution process, we are now able to provide all crystal holders the 3D assets for their crystal should they reach out on Twitter or Discord. We love to see the community make their NFTs their own, so long as its not used toward any violent or hateful ends. If you do end up using your crystal for anything cool (like an Odesza live show), be sure to let us know!
GIVEAWAYS
To celebrate the release of our first finery collection, we ran a couple fun giveaways on our socials. On the Lvcidia Instagram, we gave away a Lvcidia crewneck to one lucky commenter. And on Twitter, we hosted a giveaway for the coveted "Escape the Waking World" hoodie. Giving back to the community is very important to us, and we will keep working to spread the love with all things Lvcidia. If you'd ever like to collaborate with us on a giveaway for your community, you can reach out in a Discord ticket or on Twitter.
IN DEVELOPMENT:
The final Rouge challenge.
More IRL events. Possibly Art Basel Miami.
Finery N2 Collection.
Lvcidia landing page re-skin.
Finery derived products (jewelry, toy).
A-list artist activation inside LVCIDIA.
Physical art pieces.
New and improved Photo Tool.
Rare NFTs hidden within the game.
Star builder.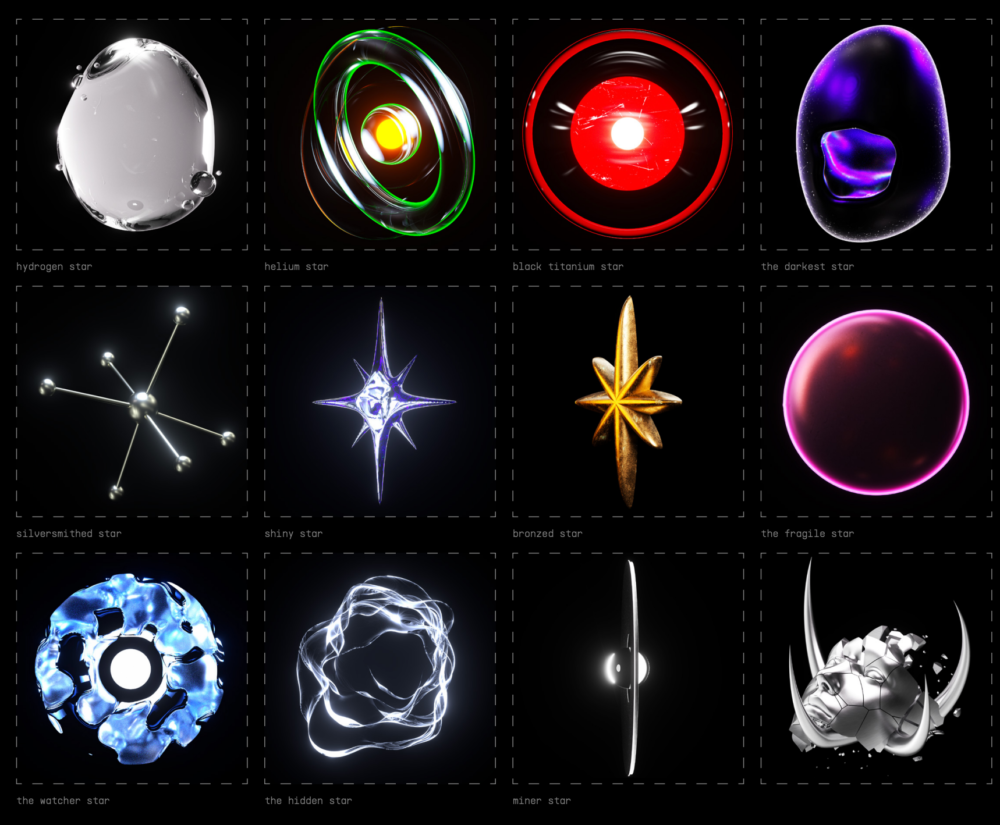 Ryan McCue
Ryan is an LA-based writer and filmmaker. He began as a Lvcidia community member in early 2021, drawn to the cinematic beauty of Fvckrender's virtual creations. His engagement with the community led to him becoming a moderator for the Discord, and in 2022 he was brought on officially to create Lvcidia's newsletter. He now assists in writing articles for the Lvcidia journal, conducting interviews, and moderating the occasional live Q&A.