Idil Dursun—AKA Jarvinart—creates worlds that you can hold in the palm of your hand. A CG artist, architect, and environmental artist from Ankara, Turkey, her obsession with cyberpunk dystopias permeates through her work. Every piece carries with it a story extending far beyond the edges of the frame, making it easy to get lost in her creations. After joining the NFT space in March 2021 with her debut artwork Threshold, she's found a passionate community of artists and fans who provide her endless inspiration. 
It is our pleasure to welcome Idil Dursun as the second artist to drop a Lvcidia Experience. By getting to know the artist and her work through this exclusive interview, it is our hope the Experience releasing on August 1st will be more enriching.
A glance at Dursun's art might inspire the thought that she was born to use 3D software. There's a richness of detail to every city, every building, and every corner of her work. No stone is left unturned, and after a few years of honing her style—a singular voice comes through. As with any artistic undertaking, reaching this point took time, determination, and an openness to explore. She had to break through the threshold from 2D to 3D. 
"Everything started after that. When I started using 3D in college."
After dabbling in drawing and oil painting in high school, Dursun went to Bilkent University to study architecture. Her education, and the skills she developed in 3D software, set her on a path of discovery: "That broadened my perspective about art in general, and its capabilities. What are my options, what can I use?" She finally possessed the toolkit to make 3D art in the vein of the creators she admired most. "I was following these artists who are still, to this day, my idols and personal superheroes in the world… and I just got so inspired from their works.", Dursun explains. No longer content spending her days wandering worlds others had created, Dursun embarked on a journey to design her own. 
Perhaps the most striking feature of Dursun's creations is their sheer scale. The viewer is often kept at a distance, invited to gaze at a world that has long since outgrown them. Structures are deified, soaring endlessly above the clouds. Thousands of illuminated windows create the illusion of a starry night sky amidst the densely packed urban jungles.
The glimmering lights ensnare you, as the environment swallows you whole.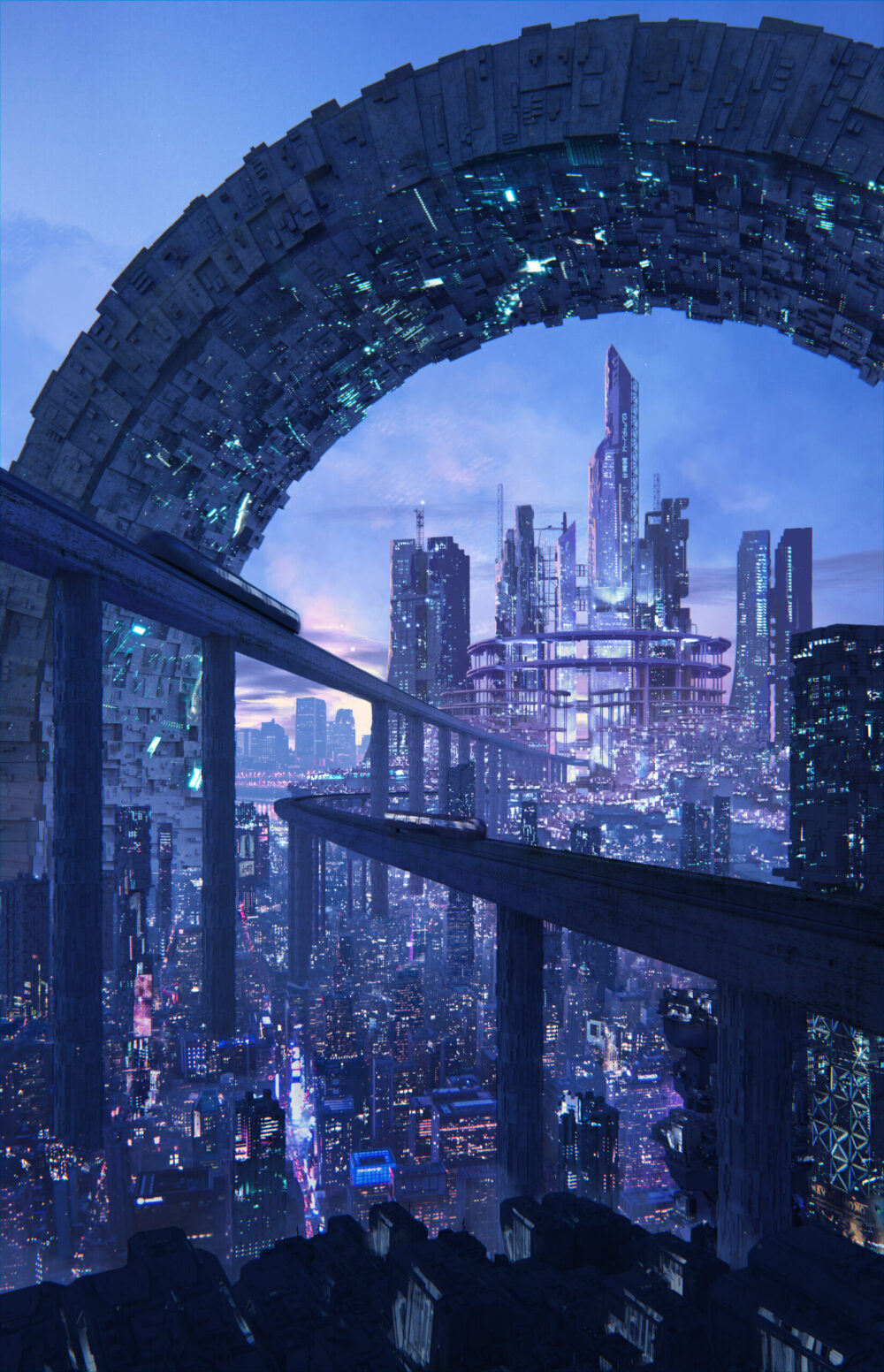 Fortunately, such an expansive world is not created brick-by-brick. When discussing her process, Dursun emphasizes shape and light. "I usually start by going through some references. Then I go off to my 3D scene and sketch it out, blocking in some little shapes without any materials. And then I try to decide on the lighting, and meanwhile, I add some vegetation", Dursun explains. While some of her works are predominantly 3D, Dursun often uses Photoshop to incorporate 2D elements. The ratio of 2D to 3D varies widely piece to piece: "it really depends on the artwork itself."
With concept art, the artist doesn't necessarily need to obey the rules of reality. Dursun's work dwells in a compelling state of contradiction. She embraces the impossibilities afforded to her by the digital realm, while still staying true to the architectural principles that were instilled in her. "It's kind of a reflex right now… I have to think about circulatIon and the human life there, because that's what I learned in architecture school. When you're designing spaces, you have to think about these things."
Whether it's reflex or instinct, the result is that her worlds always have a pulse. Despite their science-fiction natures, each one feels authentic and alive.
"But that's the difference between making art and designing [architecture]. I feel more free now because I don't really have to think about [reality], even though I still do."
Dursun's work is prone to inspire both awe and despair. Beneath the glamor of the futuristic iconography, the societies she gravitates towards portraying are those suffering from overpopulation and resource scarcity. Mankind has gone past the point of no return; humanity has lost their place. "I think art can be a very powerful tool to give some concrete truths or facts, and it can make people depressed. And I use very depressing and negative concepts in my art," Dursun says. "If you really imagine yourself living in one of those cities, it will be f*cking depressing, I think." 
While some may view Dursun's art as a warning call—a haunting glimpse into possible futures that await us—the artist's intentions are not so simple. In grappling with these pessimistic visions of the future, Dursun finds solace in giving them beauty: "I try to make these concepts easy to the eye, like with pretty colors, and not really too depressing… [I want them to be] aesthetically pleasing." 
The worlds she creates are dazzling despite their darkness. There's always an allure to the design, the feeling that everything has its place within the carefully constructed chaos. And the characters that inhabit these worlds, shadows of their former selves, continue to search for a light that lies beyond the horizon. They haven't given up hope. Struggle as they may, they will continue to search for an escape from their unfortunate situations, and cross boundaries into a better tomorrow.
Now a full time NFT artist, Dursun tries not to let market dynamics get her down. She embraces her favorite qualities of the space: community and collaboration. "This might sound a little bit cheesy, but really… the community is so important. We have to lift each other up. And it's even more important these days because everything can get really depressing so quickly when you're not making any sales," Dursun notes. "Everyone should know that it's not personal… it's not because someone doesn't want your artwork, but maybe they're waiting for the right time to collect from you." 
"It's important to stay here for the long term. Think about every movement in a 10 year, maybe 20 year scale, and act [accordingly]." 
Dursun's community helps her persist through the harder days of her career. "There is, of course, some expectations and everything, which can be a little pressuring, but most of the time… it's my main lifeline. The source of my motivation." With the help of her fans, Dursun's work has made a sizable impact on social media. The attention she's received has opened the door for exciting collaborations with some of her art idols, like the work she did with the photographer Drift for Time Magazine. 
In Dursun's view, these collaborations are a gift. For an artist striving to further refine their style, they open up a world of possibilities.
"You get so many different inputs from [the artists you collaborate with]… you get to see their perspective or view of the world, and you get to add on top of that," Dursun says.
"And then the output you have is this creative mixture of two minds. It's personally very satisfying, collaborating with other artists, and I will definitely take the time to do it more."
Idil Dursun's Lvcidia Experience will drop August 1st, with more details to follow next week. As with the previous experience (PSI by Mad Dog Jones), there will be limited edition artwork available for purchase. Speaking on the release, Dursun's enthusiasm was clear: "I will say, I feel like it's going to be a milestone in my career. It's such a huge honor. And especially because Lvcidia is now working on some new technologies, and growing their perspective in immersive 3D spaces. I feel like there are going to be so many different interesting opportunities… I feel very lucky and honored to be one of the first artists to be in the Experience drops." 
Ryan McCue
Ryan is an LA-based writer and filmmaker. He began as a Lvcidia community member in early 2021, drawn to the cinematic beauty of Fvckrender's virtual creations. His engagement with the community led to him becoming a moderator for the Discord, and in 2022 he was brought on officially to create Lvcidia's newsletter. He now assists in writing articles for the Lvcidia journal, conducting interviews, and moderating the occasional live Q&A.